Are you looking for methods to remove google account on huawei phones android 9.0 9.1 8.1 miui 9 miui10 ? we are going to show you in this article how to remove google huawei account in all models that have this problem, as well as showing
delete google huawei y6 2019 account
There is no better way to remove google account from huawei y6 which we will show how to delete google account from your huawei y6 is manually the easiest and fastest way to reset unt ?
We will only need to have another mobile available to be able to share Wi-Fi to the cell phone that has the problem of the Google account ( no matter the brand of where you will share the Wi-Fi, it only has to be from another cell phone )
How to delete google huawei y6 Byapass
The procedure will be the following to remove google frp to your huawei and 6 follow these steps how they are mentioned to have greater result, we will leave a video to give you the best solution in case you have problems
You may be interested: Remove google anti-theft account 2019
1.Share another huawei mobile internet with google account
2. Make sure that the cell phone that you share data has internet in 3.function ( that has megabytes to navigate )
4.By connecting the Wi-Fi to the other cell phone you are ready to 5.turn off the Wi-Fi and give it the following
Skip the screen steps
6.Create a pattern, password
7.Restart the cell phone from factory mode
ead more :
Download and copy apk file to SD Card: com.gau.go.launcherex_v3.0-662_Android-4.1.apk
Remove google huawei p20 lite account 2019
You have tried in many ways to remove google huawei p20 pro account. But you don't find any real solution, then let me tell you that if you have tried to remove the Google account from the Huawei P20 Lite in all the ways it had to be done and you have not achieved it, it is because the new 2019 update makes all the ways to delete the account google be safe
but today we are going to show you a method that really works
Remove google huawei p20 lite MIUI 9 account without PC
The next steps to follow will be the recommended ones, after leaving you a video to remove google account to the huawei p20 in its new version 2019
Connect huawei p20 to Wifi
You get to where you ask for the huawei p20 lite email and password
Select forgot your password ?
select " Account change request
Choose the option " Huawei ID privacy statement
Search the entire interface for cookie policies and select the option
Select the " Youtube "
Play the first Video that is shown, click on the video title so that the option to share comes out
We share it in " Gmai l " press without releasing the icon of " Gmail "
Select Notifications / then in More Settings
Choose the option of the 3 points from the top
.
Remove google huawei 2019 account with pc
Actually remove google huawei account with pc is very easy if we have the correct TOOLS to delete google account for each model of huawei phone
Using programs to remove google huawei account it becomes easier to remove google accounts on huawei phones we are going to show you some programs that are used to remove google account from the PC
Different programs are used for each processor so it is important to know what kind of processor your cell phone is.
The first program to help you remove google account from huawei with qualcomm processor, Spd
programs to remove google huawei account
To use the program we mentioned above and remove Google account from all Huawei. we will do it as follows
First have the drivers installed are they will not be able to work the program: Download Driver
Download Bryanmaster.comFRP Reset Tool .rar 
Connect the phone in Reboot bootloader mode to enter this setting only enter the recovery of the phone ( pressing volume + power key )
Open the program select option 1. Check device ( to select this option just enter number 1 and press between )
When you recognize the program, the mobile phone waits for you to recognize it and enter the number 9 days enter and voila let the program restart the cell phone and will leave without a Google account
That would be one of the programs to remove google huawei 2019 account with pc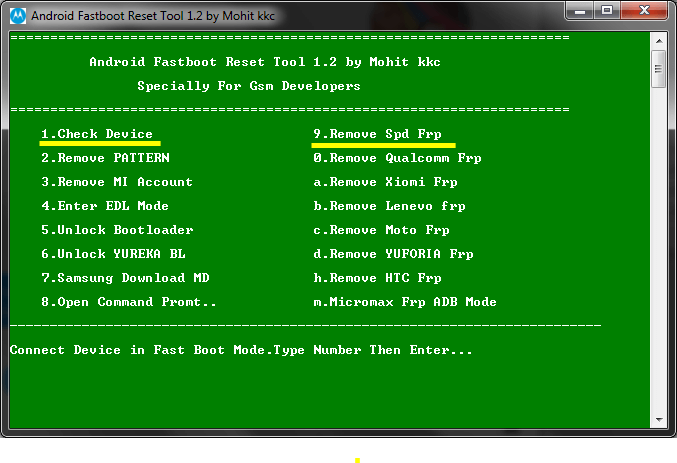 remove google huawei account 2019
but we still have more example of the following that we are going to leave a direct download and an explanation how to use it and what are the functions to delete google account with pc from huawei models
Nck qualcomm TOOL to remove google huawei account Nck mtk TOOL to remove google huawei account
Remove google huawei y7 2018 account with pc
Removing bypass of the huawei y7 2018 or 2019 is very difficult to explain a method where you can do it from the pc but you can program the
tools that we have recommended with them you can surely remove the google account to the huawei y7 with pc but if you have not been able to remove the google account huawei y7 then we will show you a method where you can remove google account manually
In the following link you can see the method that we have manual for this model of insurance will make it easier for you by showing you the complete method
Remove google huawei mate 10 lite account without pc
I guess you are looking for the method manuall without desktop to be able to remove google huawei mate 10 pro or huawei mate 10 lite account
Good to tell you that you are in the right place because we are going to show you how to remove the google account from your huawei mate 10 in any version of android that has the huawei phone: You can also use the best apk remove google account
We will use an apk to remove account to Huawei Mate 10 lite Quickshortcutmaker
Download QuickShortcutMaker .apk
The steps to follow to remove Google account Huawei Mate 10 Pro
Download the Quickshortcutmake application r place it in a MicroSD memory place it on the cell phone before following the other steps
Connect the huawei phone to wifi
We activate the talkback pressed with the 2 fingers the screen of the huawei
Draw an " L " as always: p
Select talkback settings
Re-create an " L "
select Pause Feedback (to disable talkback)
you get to the last option where it says Help feedback
select the option " Get started with Voice Access "